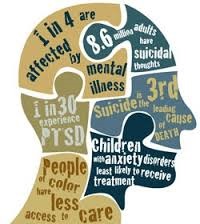 An individual's behavioral wellness is considered optimal when they can successfully demonstrate the ability to engage in productive activities, maintain fulfilling relationships and adapt to and cope with life's challenges.
Behavioral health services promote personal well-being through prevention activity and intervention in mental illness including depression and anxiety, substance misuse and addiction.  Behavioral health need continues to be associated with stigma that in some cases may prevent a person from seeking necessary services and remaining well.  Capacity within the profession is often insufficient to meet the need and in some cases not well integrated into other parts of the healthcare system.
In the days ahead, the South central Public Health Network and its partner organizations will begin to assess and analyze the regional behavioral health system and work with state and regional entities to draw a blueprint for solutions over time.