Keeping Your Home SAFE this Holiday Season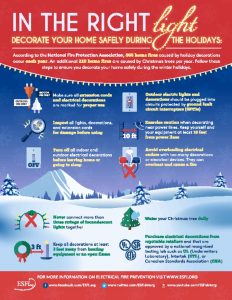 'Tis the Season to be jolly and Safe!  Keeping you and your family safe this holiday season just takes a little extra time to be mindful when decorating.  Safety should be first on your list when planning for the Holidays.
Are you buying a Christmas tree this year?  If so, whether you are searching for a Charlie Brown Christmas Tree or a Rockefeller Center Christmas Tree pay close attention to the needles before buying.  Choose a tree with fresh green needles that do not fall off when touched.  Dry trees are a fire hazard. After purchasing, cut 2 inches from the base of the trunk to allow the tree to absorb more water. Fill the tree stand with water and keep it filled.  Remember to water it daily.  According to the Old Farmer's Almanac, a freshly cut tree can consume a gallon of water in 24 hours! Learn more at: https://www.almanac.com/content/how-care-christmas-tree.
When finding the perfect location to admire your tree in the home, you should always keep it 3 feet away from fireplaces, heating ducts, radiators, candles, or other heat sources.  Do not put the tree in a place where it is blocking an exit or can be easily knocked over. Avoid tripping hazards by placing cords along the wall and away from doorways.
Are you wishing to make your home shine? According to the National Fire Protection Association, use lights that are listed by a qualified testing laboratory. Some lights are only for indoor or outdoor use.  Inspect the string of lights for any worn or broken cords or loose bulb connections. Read the manufacturer's instructions for the number of lights strands you can connect together. Do not overload extension cords. This could cause a fire or an electrical shock.  Never use a real candle on or near your tree!  Remember to turn off your lights before leaving the home or going to bed.
Once the holiday is over, remove the tree from your home before it gets dry. For more information on Christmas Tree Fire Safety go to: http://www.nfpa.org/News-and-Research/Resources/Emergency-Responders/Data-and-research/Fire-statistics-and-reports/Fire-statistics/Fire-causes/Holiday/Christmas-tree-and-holiday-lights.
May your Holiday Season be Merry, Bright, and Safe! To learn more about Holiday Decorating Safety, go to the Electrical Safety Foundation International (ESFI) website at: http://www.esfi.org/resource/holiday-decorating-safety.