The South Central Public Health Network convenes key community stakeholders to address alcohol and drug misuse through planning, community engagement, and evidence-based prevention strategies. The network provides staff, infrastructure and coordination to increase the number of proven substance misuse prevention programs, policies and practices that can be implemented in the region.
With a high level of readiness and relationships with stakeholders, the South Central Public Health Network is prepared to address these issues through extensive collaboration on activities that are aligned with the State Plan for Reducing Misuse and Promoting recovery: Collective Action, Collective Impact.
The South Central Public Health Network's Substance Misuse Prevention Strategic Plan: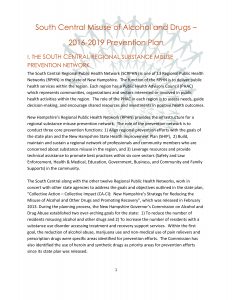 Do you or someone you know struggle with addiction or substance misuse?
Call the confidential NH Statewide Addiction Crisis Line at:
1.844.711.HELP (4357)
Trained counselors are available 24/7 to provide emotional support, information about statewide resources, or help you access social services.
Continuum of Care refers to the full spectrum of services that are necessary to address substance use disorders, from prevention through treatment and recovery to relapse prevention.
The South Central Public Health Network has a vision for a seamless network of continuum of care services that support prevention, treatment, and recovery from substance use disorders. By working with existing service providers, the Public Health Network strives to improve communication and collaboration between professionals across the continuum of care, as well as to identify under served areas and populations. The continuum of care is constantly evaluated and expanded as more resources become available in the region.
In 2016, the Public Health Network conducted an assessment of the continuum of care in the region to identify existing resource and to determine gaps. The Continuum of Care Facilitator worked with experts in prevention, treatment, and recovery, as well as members of the recovery community to complete the assessment and to develop a work plan to address the identified gaps.