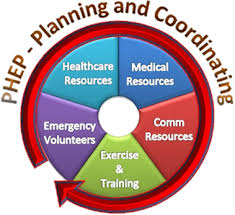 Emergency preparedness includes pre-event planning, training and exercises, and improvement planning based on lessons learned. The lead agency for public health emergency preparedness activities for the South Central Public Health Network is Parkland Medical Center.  These activities are funded by the Centers for Disease Control and Prevention and New Hampshire Department of Health and Human Services.
By preparing in advance, a community can reduce the potential impact from a public health emergency.
Parkland Medical Center coordinates with local emergency responders in the region to plan for public health emergencies, such as infectious disease outbreaks, acts of bioterrorism, and medical needs following weather events. Emergency planning focuses on developing public health preparedness capabilities at the local level and coordinating them across the region. This includes developing plans for dispensing emergency medications and vaccines, responding to a surge of patients on the healthcare system, and coordinating volunteers.
Individuals can help during a public health emergency by becoming a trained volunteer with the Greater Derry Medical Reserve Corps.
The Medical Reserve Corps offers free training to clinical and non-clinical volunteers, including the topics of public health threats, Incident Command System, medical countermeasure dispensing, emergency shelter operations, and supporting individuals with access and functional needs. In addition to supporting the community during an emergency, volunteers may be asked to participate in drills and emergency exercises.