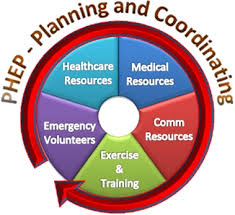 Parkland Medical Center is the lead agency for the Public Health Emergency Preparedness and Response (PHEP) initiative for the South Central Public Health Network. Emergency Preparedness includes collaborating with local emergency responders and community partners to plan for and respond to public health emergencies and threats in the region. Examples of public health emergencies include infectious disease outbreaks, acts of bioterrorism, and medical needs following weather related events. Being prepared for a public health event reduces the impact of the emergency to you, your family, first responders, and the community. 
Emergency Response partners convene regularly at Emergency Preparedness Task Force regional meetings for training and to review and update the Regional Public Health Emergency Annex. Updates to the Emergency Annex are made using best practices and lessons learned from conducting drills and exercises. 
The South Central Public Health Network through Parkland Medical Center provides direction, guidance, and training for the South Central NH Medical Reserve Corps (SCNH MRC). SCNH MRC is a group of medical and non-medical volunteers trained to respond to public health emergencies, and conduct outreach in the community to promote public health initiatives. MRC Volunteers may be activated to dispense medication during a mass vaccination campaign in the region, assist at an emergency shelter supporting individuals with access and functional needs, or open an alternate care site, which would relieve stress from hospitals during a large-scale event. 

Another component of Emergency Preparedness and Response is working with community partners to develop and promote strategies to improve the wellbeing of community members through ongoing health and safety initiatives. An example of one of these regional initiatives includes Fall Prevention for older adults. In New Hampshire, falls are the leading cause of unintentional injury deaths among people between the ages of 65 to 85. The South Central Medical Reserve Corps Falls Prevention program will address falls in the region by coordinating a Regional Falls Prevention Committee and conducting training to promote falls prevention strategies for older adults in the region who are at risk of falling. These trainings will be taught by trained South Central Medical Reserve Corps Volunteer Coaches. 
Regional and National Resources: