Lead Poisoning Prevention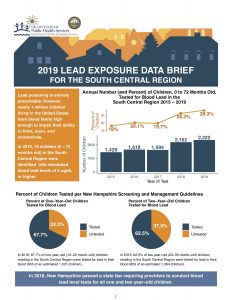 Lead poisoning is entirely preventable. A child with an elevated lead blood level of >5ug/dl will experience impairments to thinking, learning and concentration.
Beginning in spring of 2020, with the support of the NH Healthy Homes and Lead Poisoning Prevention Program, The South Central Public Health Network will develop the blueprint for and execute a plan to increase awareness, knowledge and understanding of the risks of Lead exposure in the region and the measures that can be taken to prevent it.
The first step in the process is to further develop the Lead Awareness and Leadership team to include representation for all sectors in the region.
From there, the Team will:
Provide educational opportunities including in personal workshops for consumers and professionals including schools, child care facilities, parents and others about the risks as well as the devastating outcomes suffered by children poisoned by lead.
Train home and community educators on best ways to share lead prevention and testing information.
Create a Lead Awareness regional list serve to share information and guidance on a regular basis.
Implement a digital education strategy to include a social media across all network platforms and create a series of podcasts to reach potential new audiences.
Our lead poisoning prevention initiative is supported by information from the following resources: