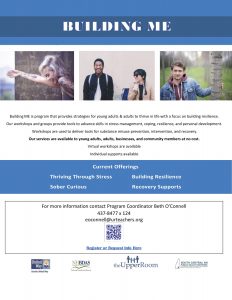 Building ME is a program of the Young Adult Strategies initiative of the South Central Public Health region and offers services to young adults throughout the network communities. It is managed for the network through The Upper Room – A Family Resource Center.
Through Building ME, young adults have the opportunity increase their resilience, self-awareness and skills needed to cope with and overcome challenges. Using all evidence based programs as the foundation for its curriculum, Building ME provides group workshops, on-demand presentations, and one-on-one supports, the program helps young adults build skills in stress management, emotional wellness, self-care, coping skills, goal setting, substance misuse prevention, recovery, self-esteem, and resilience.  In-person groups and individual appointments are located at The Upper Room- A Family Resource Center.
Learn how to reach your individual goals by combining strategies to improve your overall wellness, self-esteem and vision for your future.
Not sure if Building ME is right for you?  Take this short questionnaire to find out: https://forms.gle/tJWjMDyeb1oPwgDa6
To find out more, or to register, click the link provided: https://tinyurl.com/UpperRoom-YAS
Current On-Demand Workshops Available:
Thriving Through Stress https://onedrive.live.com/view.aspx?resid=B85D63E08849B486!373&ithint=file%2cpptx&authkey=!AHGgKbVc7uqdD4E
Current Webinars/Workshops provided virtually via zoom:
Self-Care How To
Building Your Recovery Capital
Best Foot Forward
Resilient Mindset
Building ME is provided at NO COST through a grant from the Bureau of Drug and Alcohol Services