Continuum of Care refers to the full spect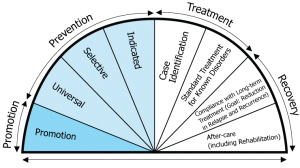 rum of services that are necessary to address substance use disorders, from prevention through treatment and recovery to relapse prevention.
The South Central Public Health Network has a vision for a seamless network of Continuum of Care services that support prevention, intervention, treatment, and recovery from substance use disorders. By working with existing service providers, the Public Health Network strives to improve communication and collaboration between professionals across the continuum of care, as well as to identify under-served areas and populations. The Continuum of Care is constantly evaluated and expanded as more resources become available in the region.
The work in Continuum of Care Facilitator has numerous integrated responsibilities in the network:
Coordinating the annual scan of the assets and gaps in the community to identify the resources that exist and what the region needs.

 

Collaborating with experts in prevention, intervention, treatment, and recovery, as well as members of the recovery community to develop a work plan to address needs.

Becoming an integral partner in the work being done by Network4Health (the Integrated Delivery Network) which seeks to improve service delivery in behavioral health across the continuum for the most vulnerable residents in the region and beyond.

Organic in nature, the work of the Continuum of Care must respond to continuously changing information and service patterns.  Whether through community education to increase knowledge and information regarding treatment and recovery options to promoting the decrease of stigma in mental illness and substance use disorders, the Continuum of Care Facilitator forges strong partnerships with prevention specialists, service providers in treatment and recovery and the community at large.