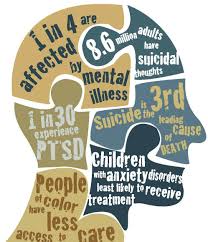 An individual's behavioral wellness is considered optimal when they can successfully engage in productive activities, maintain fulfilling relationships, and adapt to and cope with life's challenges.
Behavioral health services promote personal well-being through prevention activities and intervene in mental illnesses including depression and anxiety, substance misuse and addiction. Behavioral health needs continue to be associated with stigma. In some cases, this may prevent a person from seeking necessary services and remaining well. Capacity within the profession is often insufficient to meet the needs, therefore creating another barrier to accessing care. Furthermore, behavioral health services are not always well integrated into other parts of the healthcare system.
Substance misuse disorders frequently co-occur with mental illness. According to the 2016 version of the National Survey on Drug Use and Health, 18.5% of individuals with a mental illness also have a substance misuse disorder. A person who is depressed and using substances has a much higher risk of suicide or self-injury. Also, according to the Anxiety and Depression Association of America, individuals with mood or anxiety disorders are two or three times more likely to have a substance misuse disorder. The South Central Public Health Network addresses both because they are so interconnected.
The integration of primary and behavioral health care is key to optimal outcomes across the continuum. It improves communication, expands provider capacity and bridges gaps in care during periods of transitions.
Partners in the South Central Public Health Network along with the Continuum of Care Facilitator are supporting the efforts of the Integrated Delivery Network (IDN) to develop capacity, resources and training to better respond and promote emotional wellness overall.