May is Lyme Disease Awareness Month!
May is Lyme Disease Awareness Month!
Lyme Disease Awareness Month may not be a reason to celebrate but it is a reason to take action! Lyme disease is a bacterial infection that is transmitted through the bite of an infected blacklegged tick. New Hampshire has one of the highest rates of Lyme disease in the nation. The best way to prevent getting Lyme disease is to take actions to avoid being bitten by a tick.
Prevention:
Avoid wooded areas with a lot of brush and leaf litter. Stay in the center of a path when possible.
Wear light colored clothing that will show ticks on you, preferably long sleeves, pants, and hat.
Use insect repellent with at least 20% DEET or with oil of lemon eucalyptus. Use the Environmental Protection Agency (EPA)'s online tool to help you select the repellent that is best for you and your family: https://www.epa.gov/insect-repellents/find-repellent-right-you.
Treat your clothes with permethrin (a non-staining insecticide used to repel and kill insects on clothing).
Check yourself and your pet for ticks after being outdoors.
Shower immediately after coming indoors and check ALL your body areas for ticks.
Tick Free NH developed this Shower Card to remind you to do a tick check every day. Tick Free NH is an initiative in New Hampshire that promotes tick awareness and provides information on preventing tick encounters. Go to their website at https://tickfreenh.org/to learn more about tick prevention, protection, and removal of ticks that can cause Lyme disease. You can also find educational materials for you to use and share with others.
Removal:
If you find a tick attached to you, don't panic! According to the CDC, https://www.cdc.gov/lyme/removal
there are several tick removal devices available on the market, but a plain set of fine-tipped tweezers will remove a tick effectively.
How to remove a tick: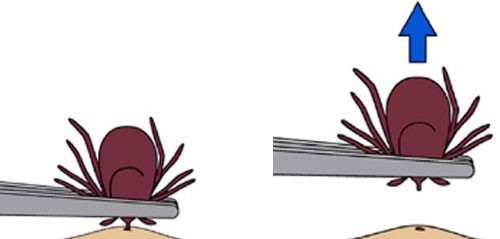 Use fine-tipped tweezers to grasp the tick as close to the skin's surface as possible.
Pull upward with steady, even pressure. Don't twist or jerk the tick; this can cause the mouth-parts to break off and remain in the skin. If this happens, remove the mouth-parts with tweezers. If you are unable to remove the mouth easily with clean tweezers, leave it alone and let the skin heal.
After removing the tick, thoroughly clean the bite area and your hands with rubbing alcohol, an iodine scrub, or soap and water.
Dispose of a live tick by submersing it in alcohol, placing it in a sealed bag/container, wrapping it tightly in tape, or flushing it down the toilet. Never crush a tick with your fingers.
Signs and Symptoms
Ticks can attach to any part of your body but are often found in hard-to-see areas such as the groin, armpits, and scalp. In most cases, the tick must be attached for 36 to 48 hours or longer before Lyme disease can be transmitted. The CDC lists the following early signs and symptoms that can occur 3 to 30 days after a tick bite: (https://www.cdc.gov/lyme/signs_symptoms)
Early Signs and Symptoms (3 to 30 days after tick bite)
Fever, chills, headache, fatigue, muscle and joint aches, and swollen lymph nodes
Erythema migrans (EM) rash:
Occurs in approximately 70 to 80 percent of infected persons
Begins at the site of a tick bite after a delay of 3 to 30 days (average is about 7 days)
Expands gradually over a period of days reaching up to 12 inches or more (30 cm) across
May feel warm to the touch but is rarely itchy or painful
Sometimes clears as it enlarges, resulting in a target or "bull's-eye" appearance
May appear on any area of the body
It is very important to take precautions to avoid tick bites and take immediate action if you are bitten. By taking antibiotics for a few weeks, most people in the early stages of Lyme disease can be treated and will recover completely! (https://www.cdc.gov/lyme/treatment/index.html)If left untreated, the infection can spread to joints, the heart, and the nervous system, so contact your healthcare provider if you have any concerns about a tick bite. Did you know that Lyme disease can also affect your pets? Check your pets often for ticks to ensure that they stay healthy and that they are the only creatures that you are snuggling!
For more information go to: https://www.cdc.gov/lyme, https://www.dhhs.nh.gov/dphs/cdcs/lyme, & https://tickfreenh.org/
Stay safe, stay healthy, and stay tick-free!